It has been slow moving, but my blog has finally reached 100 followers! I began this blog in June 2011 as a way to communicate what kids were learning to parents. As I read other blogs I was thankful to be able to learn from so many other teachers. So, I wanted to also share instructional ideas.
As a thank you, I am giving away a few of my favorite things.
Looking for a taste of Louisiana?
One lucky winner will receive a package with a pound of Community Coffee, Tony Chachere's seasoning, and a Cafe Du Monde beignet mix. I drink the coffee everyday and use the seasoning in almost all dinners. Can't get enough of beignets :)
Winner will also get each item that has been offered from fantastic blogging friends!
Christi from Ms. Fultz's Corner is giving her Do It All Clock set.
Michelle from the 3am Teacher is giving her Place Value Clip Art collection.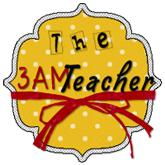 Giveaway ends Sunday, September 30 at 12:01am EST so start entering!
Once you have entered, please leave a comment with your email so I can contact the winner.
a Rafflecopter giveaway